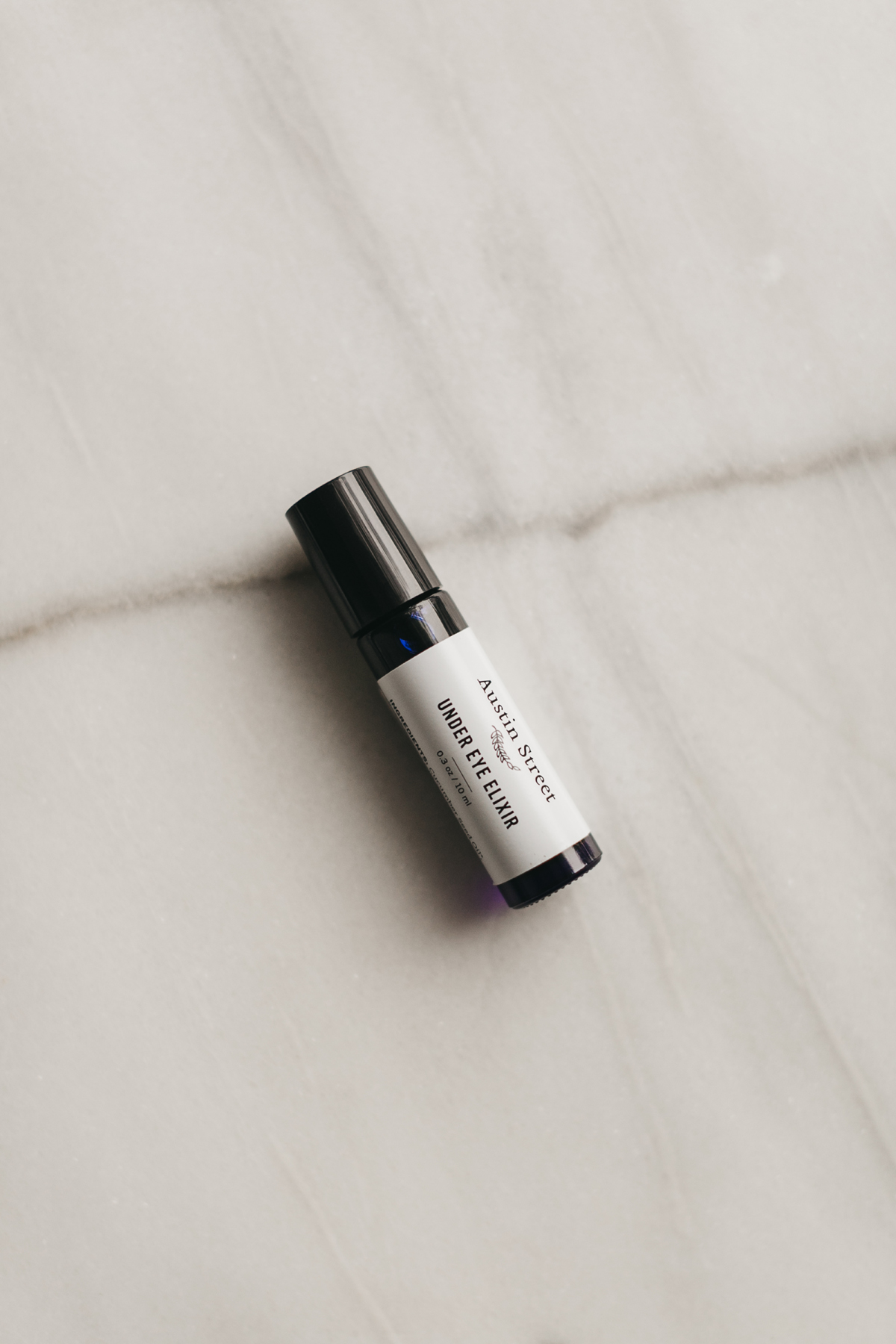 Under Eye Elixir
Under Eye Elixir is a gentle yet potent serum designed to moisturize, brighten, soothe, and protect the delicate eye area. This is a lightweight, hydrating treatment that glides on the skin with a velvety effect.
Cucumber seed oil is rich in phytosterols, tocopherols, and fatty acids which promote the reduction of wrinkles and are highly moisturizing to dehydrated, damaged, and irritated skin. Cucumber is well known for its ability to reduce puffiness and inflammation.
Prickly pear seed oil has the highest vitamin E content of all carrier oils, which makes it a powerful antioxidant and free radical scavenger. It has a myriad of benefits including brightening under eye shadows and restoring elasticity to tired skin.
Rosehip seed oil is extremely high in omega 3 fatty acids and is considered one of the very best oils for skin rejuvenation. The presence of vitamin A helps delay the effects of aging and makes rosehip seed oil a successful treatment for reducing the appearance of scars, eczema, wrinkles, age spots, and premature aging.
Evening primrose oil is of great assistance to dry and mature skin with its high gamma linolenic acid content. It promotes healthy skin, renews fatigued complexions, and combats signs of aging.
A rich blend of powerfully restorative essential oils calm and revive skin while offering a lovely floral fragrance. With a distinctly fresh cucumber note, Under Eye Elixir has a pleasant, sweet aroma that is lovely when applied just before bed or upon waking in the morning.
D I R E C T I O N S
Gently roll on under eye area after cleansing. Use fingertips to smooth in any excess until absorbed. Suitable for all skin types. Store in a cool, dry place and do not allow any moisture into bottle. Use within six months for maximum freshness.
I N G R E D I E N T S
Cucumber Seed Oil*, Rosehip Seed Oil*, Prickly Pear Seed Oil**, Evening Primrose Oil*, non-GMO Vitamin E, essential oils of Bulgarian Lavender*, Somalian Frankincense*, Bulgarian Rose Otto*, Carrot Seed*, Australian Sandalwood*, and Egyptian Geranium*
*certified organic
**wildcrafted
U S E S
Our Under Eye Elixir may be used as a gentle eye treatment and facial oil.
S I Z E S
Available in a reusable or recyclable 10 ml cobalt glass bottle with stainless steel roller ball or a 2.4 ml glass vial.
N O T E S
Please ensure your skin has completely absorbed oil as there is a possibility that it might discolor fabric and linens.
Handcrafted in Denton, TX!