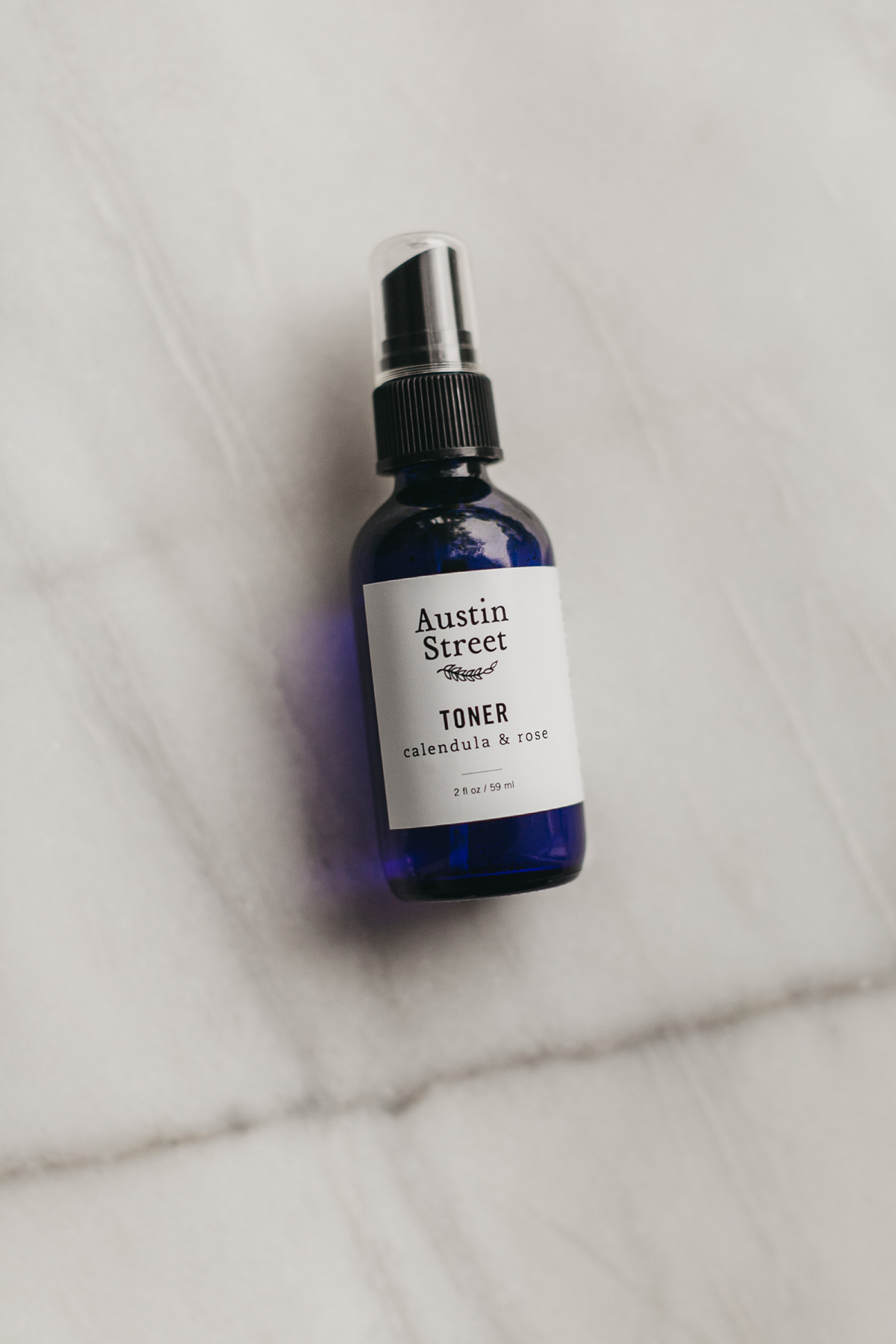 Toner
Toner is a skin-refreshing blend of pure hydrosols and organic extracts crafted to stimulate circulation, retain moisture, and soothe irritation.
Distilled from high quality plant material, lovely organic lavender hydrosol has an herbal, sweet floral top note. With its cooling, healing, and calming properties, lavender hydrosol does wonders for all complexions but is especially suited for blemished, sensitive, and damaged skin types.
Organic, double distilled witch hazel extract is an incredibly soothing ingredient with anti-inflammatory, antibacterial, and antifungal properties. Purifying witch hazel harmonizes the skin and fights acne without over-drying.
Vegetable glycerine attracts moisture and oxygen to the surface layers of skin while softening and gently cleansing.
Calendula is a happy golden flower that has been used for centuries to treat an array of skin issues. It provides excellent nourishment to irritated skin.
A lush blend of lavender, chamomile, and luxurious rose otto essential oils offers a wide variety of skin-enhancing and aromatherapeutic benefits, delivering a bounty of nutrients while easing stress and anxiety.
D I R E C T I O N S
Spritz on face after cleansing to tone, hydrate, and balance. Gently pat excess into skin until it is absorbed, then follow with moisturizing serum. Suitable for all skin types.
Store in a cool, dry place, preferably the refrigerator, and do not allow any moisture into bottle. Use within six months for maximum freshness.
I N G R E D I E N T S
Lavandin (Dutch Lavender) Hydrosol*, Witch Hazel Extract*, Vegetable Glycerine*, Calendula Extract*, essential oils of Bulgarian Lavender*, Roman Chamomile*, and Bulgarian Rose Otto*
*certified organic
U S E S
Our Toner may be used as a facial mist, a makeup and cleanser residue remover, a soothing agent for minor burns and rashes, and a full body refresher.
S I Z E S
Available in a reusable or recyclable 2 oz or 1 oz glass cobalt bottle with atomizer.
N O T E S
Hydrosols are incredibly delicate botanical distillates and as such require a bit of extra care. For best results, please keep this product in a location under 75 °F, ideally the refrigerator. This will also make for a wonderfully refreshing skin treatment!
Handcrafted in Denton, TX!