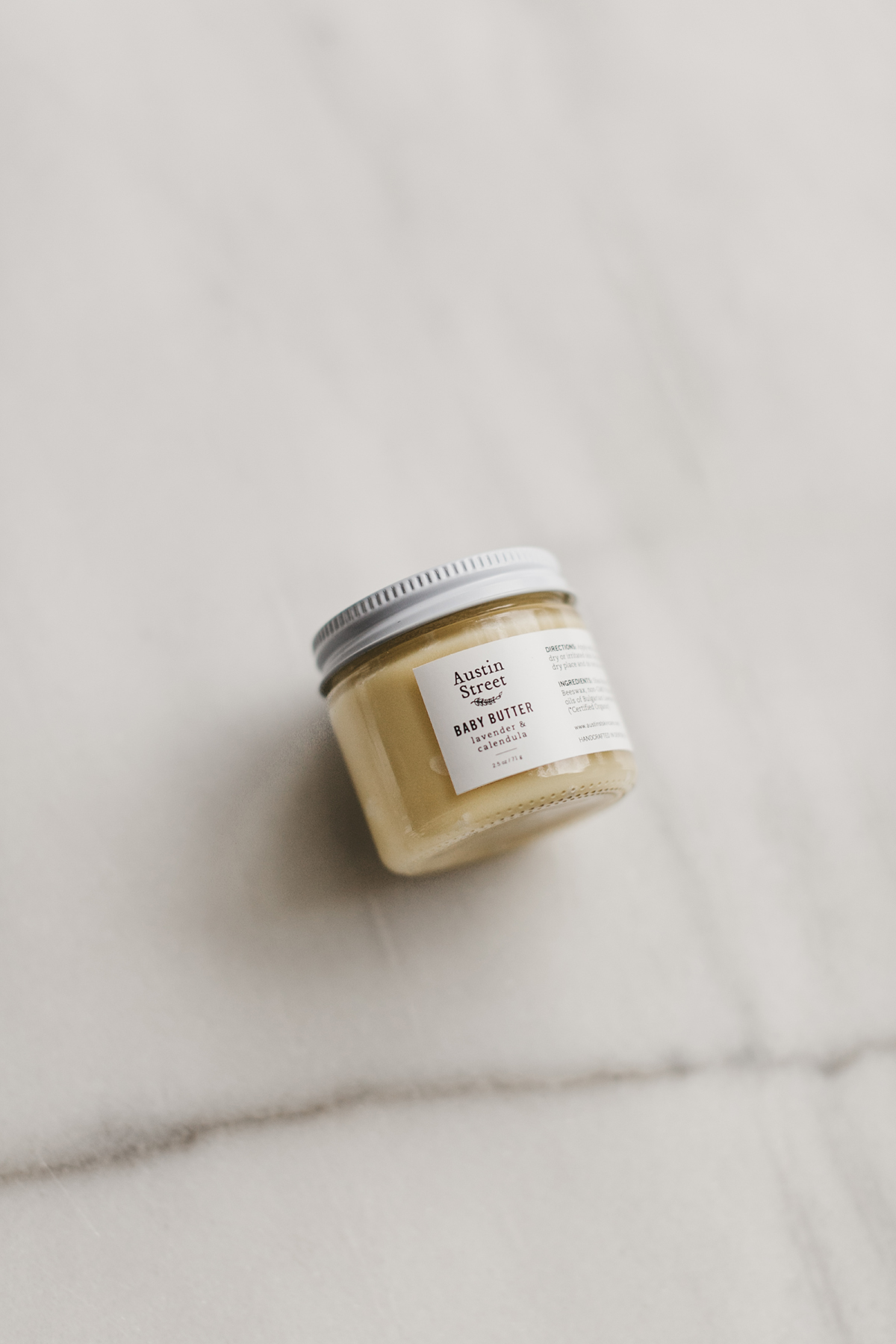 Baby Butter
Baby Butter is a creamy, deeply nourishing blend of raw shea butter, cold-pressed vegetable oils, organic extracts, and therapeutic grade essentials oils designed to impart serious moisture to dry, inflamed, or irritated skin.
Unrefined shea butter is rich in vitamins A, E, and F which help soothe, hydrate, and balance the skin. Shea butter also creates a protective barrier for tender skin to promote healing and revitalization.
Apricot kernel oil is a mild, moisturizing oil that is wonderful for a variety of complexions but is especially suited for baby's delicate skin. It absorbs quickly without leaving a greasy residue and contains vitamins A, C, and E which help skin retain elasticity, clarity, and suppleness.
Calendula is a happy golden flower that has been used for centuries to treat an array of skin issues. It provides excellent nourishment to damaged skin.
Bulgarian lavender essential oil is renowned for both its skin healing and antibacterial properties and has a sweet, herbaceous fragrance that promotes rest and rejuvenation for both mind and body.
Somalian frankincense essential oil was valued more than gold during ancient times for its ability to treat a great variety of ailments, and it is mentioned in one of the oldest known medical records (dating from 16th century B.C.). Frankincense has powerful regenerative, anti-inflammatory, and calming properties.
D I R E C T I O N S
Apply daily with clean hands to moisturize and soothe dry or irritated skin. Store in a cool, dry place and do not allow any moisture into jar. Keep out of baby's reach. Use within six months for maximum freshness.
I N G R E D I E N T S
Shea Butter*, Apricot Kernel Oil*, Coconut Oil*, Beeswax, non-GMO Vitamin E, Calendula Extract*, essential oils of Bulgarian Lavender* and Somalian Frankincense*
*certified organic
U S E S
Our Baby Butter has several uses including all over moisturizer for tender skin, treatment for diaper rash, bug bites, scrapes, and minor burns, and nipple balm for nursing mothers.
S I Z E S
Available in a reusable or recyclable 2 oz or 1 oz glass jar.
N O T E S
Though our ingredients are extremely gentle, baby's skin can be very sensitive. Please conduct a patch test before beginning regular use. Keep out of baby's reach.
This product contains shea butter and apricot kernel oil. If you have a tree nut allergy or sensitivity please do not use this product.
Please ensure that skin has completely absorbed butter before coming into contact with linens and fabrics as there is a possibility that the beneficial oils might stain.
Handcrafted in Denton, TX!